Please note that if click on some of the images on this page they will enlarge
Feedback and Memories of Suters Ltd
If you have any memories of Suters in Slough, Uxbridge, Ruislip, Windsor, Asford (Middx) or of G W Suter Draper in Ledbury we would appreciate your stories. (Also when the business in Slough and Uxbridge became Owen Owen in 1978)
Did you work at Suters?
Did any of your family work there?
Did you to shop there?
We will not publish full names unless requested to do so, or unless on an open Facebook group or website.
____________________________________________________________________
On the 26 April 2019 Debenhams announced that the company was closing 22 stores in 2020 including the former Suters of Slough premises in High Street Slough. Philip Suter posted a message on the SLOUGH 1970's Facebook page -"Debenhams to close 22 stores including Slough next year". There were lots of responses from The "Closed Group Facebook page".
S W I worked in that building when it was Owen Owen
P R I remember all 3 occupants: Suters, Owen Owen and Debenhams. Sad to see it close as there will be nowhere to shop!
C C I started at Owen Owen in 1980
S W / J S I worked up stairs on the top floor assistant floor manager alongside Irene Wallis
D A / S W I worked with Irene Wallis too . I worked for fogarty/ colorall concussions then worked for Owen Owen
G A Gosh another one gone. Famous faces shopped in there in all decades it was Suters
J S / S W late 80s early 90s I worked in haberdashery, fashion accessories, baby wear than ladies fashions
E B Only went in Suters.
W S - to Philip Suter Are you related to Suters the Department store that was? Hope you don't mind me asking? Went up and down those escalators a few hundred times for sure ? a long long time ago of course
____________________________________________________________________
In March 2019 Philip Suter received an email from Andrew Wyatt. Andrew was trying to find out more information about his Grandfather's cousin Percy Ghinn. He came acroos a letter in the Suters Spotlight Staff Magazine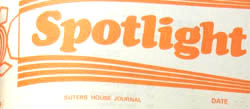 Contribution from retired member of staff Percy Ghinn to Spotlight magazine about Household line department at Uxbridge in 1953 - Andrew explained that his family had a similar smaller scale, business, started by my Gt Grandfather William Joseph Lack (image below right), and run by my Grandfather Charles Lack, in Thornton Heath Surrey. My Grandfathers cousin was Percy Ghinn, who I see on your website; appeared to work for Suters, before 1953. This is new to me, but great to see a quote from him in your families 'Spotlight' magazine. I knew he worked for a big store after having his own shop in Potters Bar High Street in the 1930s/ 40s. What he did for Suters I would love to know...do you know anything more please? I attach a photo of his own drapers shop at 62 High Street. This was I am told taken in the 1920s. Ghinns also had the woolshops across London and Kent up to the 1970s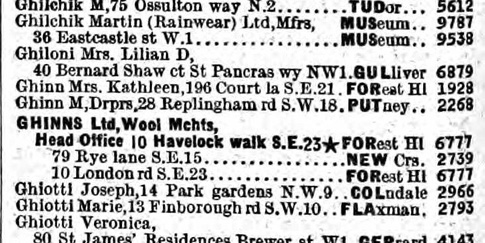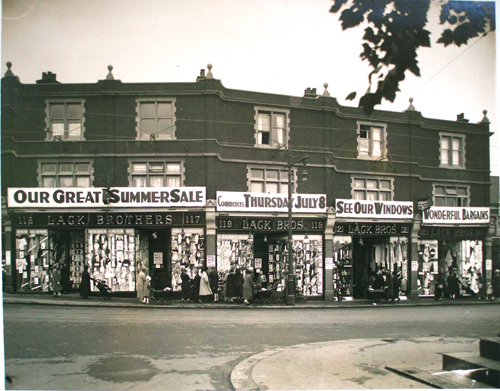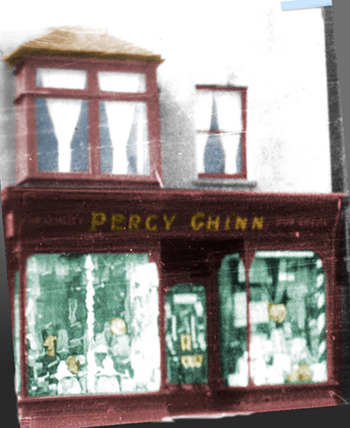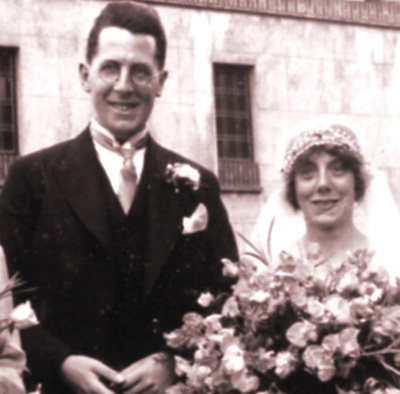 Left wedding of Percy Ghinn (images do not enlarge)
Philip contacted his cousin Tom Suter, as he was working at Suters in Slough around the same time, but unfortunately did not remenber Percy Ghinn at Uxbridge as he would not often go to the Uxbridge branch.
"Dear Andrew Unfortunately cannot be of much help with your research. I emailed my cousin Tom who has replied "Philip, Apart from remembering that there was someone of that name at Uxb. I do not recall any thing about him . I was general manager .at sl. after herbert Worsfolds retirement so only went to Uxb after 1956 ,sorry I can,t help . regards Tom" It is a great shame I did not get the information on the web a few years earlier as there might have been a few more people about to ask. I am sure my late father John would have remembered, however he passed away over 20 years ago. It was only by chance my nephew found the Spotlight House Journal magazines at his Dad's house and from what I understand these must have been sent to former members of staff as it looks like a few sent in contributions. Kind regards Philip"
Hi Philip Ok many thanks. Yes I just caught my Great Aunt before she died, to find out about my own family big store Lack Bros. Her name was Phyllis Lack, cousin to Percy Ghinn, she may have had something to do with Suters ? too, she was a house model just before the war when she joined the WRAF. I think these big Drapers business's had staff / families moving within them, and knew each other quite well.
Andrew then forwarded on these website links Lack Brothers - Wikipedia and Lack Bros Drapery Store - Can you help ? If you have more information Contact us by e-mail here and we will pass it onto Andrew.
____________________________________________________________________
In September 2018 Philip Suter went into Slough and into Debenhams. The Lower Ground foor, ground and first floors were still being used as sales area, but the escalator to second floor was blocked and the staircase behind the lift had a sign up advising staff only. Two posts were pit on the Slough 70's Facebook page showing photos taken (these are shown here) "Went in Debenhams today, now over 40 years since last worked in that building in June 1978. I know there are a lot of problems in the retail world now but does anyone know when the second floor closed?"
A few replies N V I worked in the China dept (lower ground) in 1977/8. It was a Saturday job and really loved it and Suters in slough was the best department store. I worked in the perfumery dept in 1978
T J I just loved Suters, I also loved Littlewoods, Isaacs, Ashley Russell, Boots, C & A, Superdrug, Waitrose & British Home Stores
G C The restaurant closed at least 5 years ago as well as the toilets. Derek Rawlins Has not had second floor for at least 6 months or more
Second post "The trees look good in Slough High Street, even if the shops are closing, however Boots and W H Smith still there. BHS empty and Marks and Spencer. Hope Debenhams does not close Slough branch?"
M P Suters used to have a photographic dept also . My 2 girls had some great Piccies taken there when small . Such a great department store . Although Debenhams is ok doesn't have the same feel as Suters did !
M H My favourite shop used to be Suters! Especially the toy department. I think Tesco did the most damage to the High street, especially because of the free parking and being open 24 hrs
S P M&S closing was regrettable, but looking at that forlorn pic of the one-time Owen-Owen escalator, I'm truly gutted. It's probably because on one hand, it was always my youthful short-cut between Queensmere and the high street. But on the other, there were just so many points of interest scattered throughout it's floors, especially back in the late 70's and early 80's. Whoever set it all up really knew how to plan a store. Or maybe it's just that the kind of stuff they all sold back then was more interesting.
____________________________________________________________________
September 2018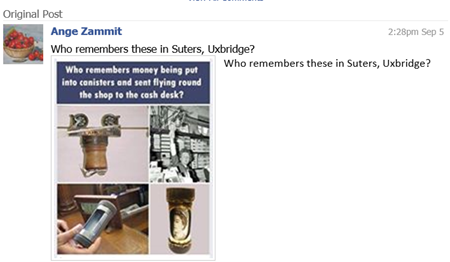 Can you remember old shops and places in Uxbridge Facebook Public Group. Some of the comments below - names left as it is a public group.
Gill Godfrey Yes remember them in Suters and Randalls - Philip Suter They went up through tubes to one cash office that was "home" to the Lamson tube system. I don't recollect them not being in tubes run by compressed air. Many supermarkets have these near the till these days to off load cas securely. Maggie Brayne Suters worked there. Julie Spoard loved watching those shoot up a pipe as a kid. Jennifer Lenton Suters, Daniels and many others too. Patrica Sewell Suters and Randalls had them. Joan Piper Yes Suters & many other stores used them & when Tesco Big stores were started they also had a system for emptying their Tills when there was too much cash in them But I helped in Suters cash dept & it was a great system.
Sandra Skinner Loved going into Suters - especially upstairs the bedding department and then at Christmas visiting Father Christmas ha ha xx. Julie Spoard I remember the ride to see santa on his sleigh at christmas awsome memories. Sylvia Styring-Hill I used to work in Suters in the early 70s, I was always scared of the system but it really did save any problems with change counting. Michael Mansfield Then there was the amazing Christmas ride. It took me ages to work out the thing we sat in didn't move it was the scenery that did. Such innocent and exciting times. Colin Edwicker Sanderson Fabrics had them
John Byrne I believe both Suters and Randalls in uxbridge had them,but they worked on a vacuum system,remember seeing them , late 50s/early 60s. Nick Dean Lamson tube system. We used them at Sanderson to carry documents and orders from office to warehouse.Colin Rogers Sep 7 Yes. Owen Owen had them for a while when they took over. I worked there for a bit and remember it changing to electronic tills if you please!
This topic continued into December 2018 when Shirley Holman said I used to sometimes work in the room where the tubes went to, opening taking out money and sending the change and receipt back down and Thelma Muckley Yes I remember them not in Suters but a store in West Ealing i was fascinated by them
____________________________________________________________________
March 2018 - Tom Suter showed Philip a flyer of the old 1930's Uxbridge removal service - This was then posted up on the Facebook CAN YOU REMEMBER OLD SHOPS AND PLACES IN UXBRIDGE Public Group and produced several memories -(As this is an open group names are quoted) Peter Gunter I was a removal man for Suters in 68. We had 2 vans that were parked behind the police station.
Joan Piper Did you know Archie from Hayes End ?? He worked at Uxbridge as a removal man for many years.
Peter Gunter Could it have been Archie that l worked with in the 60s. He must have been in his 60s then. Lovely man. (Archie Taylor)
Joan Piper Yes he was he lived near me in Hayes End he was in Hayes End Drive & I was in Blacklands Drive later I remember he went to live with his Son in Australia as his wife had died .He was only very slim but strong & told me he are nettles as his greens & always made nettle soup.
Peter Gunter Ive just read the link regarding the removals. I remember Archie telling me about the tricky move to the island in the Thames. One move l recall was Raymond Baxter who moved to Denham. Both vans were needed. He gave us all £1 10s each. Very nice man. One odd fact l recall was the vans both ran on petrol.
Yes he was a very strong man and much smaller than me. He was always happy which made the work easier. We had another chap that worked with us for a short period. Patrick from Ryefield Ave. Hilingdon.
Peter Gunter I had very little to do with inside the shop. We had work every day. Some work we took on was via Bestaways. But do recall it was akways the work they didn't want to do. My dear old dad was macebearer when mayor Suter was in office. I think he was Fred Suter. (Arthur Suter)
Joan Piper There was a nice man in the furniture dept I remember he had been a prisoner in Japan was rather thin tall I can't think of his name Philip's Reply Can't remember his first name, but I too remember him, Mr Neville who lived in the Chalfonts.
Joan Piper I worked in Payroll & Mr Frank Mr John I got know quite well & then of course the sons gradually took over. Mr George did come in occasionally.
Jerry Brindley My nan worked for Suters (& Owen Owen) in the ladies clothing dept for many years...mainly at Slough
Patricia Handley I had a Saturday job at Suters in Uxbridge in mid- 60s ... Lamson tubes, staff canteen, a sedate, old-worldly atmosphere ....
William Harris My mum worked for Suters in Uxbridge, during the war and lived in one of the Suters flats, near Slough station when they were first married. She used to 'fire watch' off the Uxbridge Suters roof.
William Harris I remember my parents being friends with a chap called Jim Read, who I think was a floor manager at Slough Suters. (Cyril Read)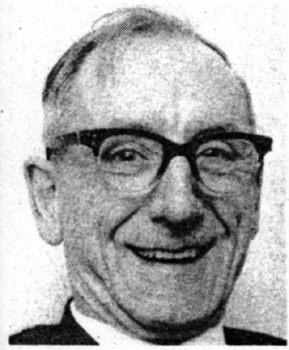 Dave Morgan Does anyone remember Mr Plumtree who was buyer/manager of the linen department on the ground floor in the 1950's/60's, I think he came originally from Lancashire or Mr Collet who was his assistant manager? I worked at the Uxbridge store from 1965 until 1970 approx.Philip's reply Hi Dave, I do as a child, working in the linen department at Uxbridge on the ground floor. I thought it was on Suters Ltd site but not, have photo above left.(now on History of Suters Ltd - 1950s) Dave Morgan That's brilliant Philip.....just as I remember him. Thank you.
Joan Piper Yes I worked for him while waiting to go in payroll as it was Sales time I wrote out his tickets for lots of his sheets & tea cloths also knew Mr Collet.
Joan Piper I was there Xmas1960 helping in the Toy dept Mr Frank asked me as I was a Mother of two young boys I would know what to advise other parents what to buy ,I loved it but of course later my main job was a Pay clerk but I did empty the Tils some evenings & worked in the cash office when they got bust on the Lamson.
Dave Morgan I started working at Suters at christmas time in the toy dept then moved to linens for the January sale, spent a lot of time in the basement repricing stock in the basement....then moved to soft furnishing dept for next 3 -4 years...Mr Burnell was buyer/manager there.
Janet Littlewood wondering if you would have known my Mum, Peggy Moody, she would have been on the ribbon counter in the early 60's but later went on to work in the office.
Sheila Pearce 10:18am Mar 9 Oh golly, one of the Suters! Loved the store in Uxbridge, right from a tiny child, best Father Christmas visits ever. Remember the dangerous X ray machine in the shoe department, through which you could view the bones of your feet inside your shoes! Also the extraordinary money tube vacuum arrangement for paying when you bought something. Money would be put in a tube and shoot off somewhere, and then shoot back again. Magic!
____________________________________________________________________
16th May 2017 -

Philip Suter had an email from Karen Sloss the Trust Manager of Owen Owen Trust. Oween Owen was the company that bought Suters Ltd in 1978 and ran it for the next 18 years. "I have been reading your page with interest. I am the manager of the Owen Owen Charitable Trust, a charity based in Liverpool that supports ex staff of the Owen Owen Group. We have beneficiaries in Slough and Uxbridge, but not as many as we would like, and i am sure there are more people out there who could benefit from our grants and support.
We are looking to promote ourselves in the area. Over the last 3 years we have held reunions and get-togethers all over the country, but never in the south east, as we were never quite sure where we should target ourselves. Can you help? Are you aware of any groups, forums or informal gatherings of ex staff, where we can promote the Trust? Basically, the Trust offers regular and one off grants to ex staff with service over 2 years who fulfil our financial criteria."
We exchanged a couple more emails and have created The Owen Owen Trust page with information supplied by Karen and details of the Facebook page for The owen Owen Trust

Below is feedback from Facebook group pages.
Slough 1970s Facebook group - May 2017
Trisha P... Loved this shop worked there for a short time in the late 60s
Steve B.... My Mother-in-law worked there for some years, Trisha, as a Charnos rep
Amrit O'..... Worked there in the Beauty Room in 1975 for 3 years .
Julie T..... Both my parents worked there.....Mum in the Mac dept & Dad in the Café
Moira S...... Our Mum Ann H.......worked in Owen and Owen for years selling jewellery
Lesley-Jean F....... I loved Suters before it changed hands but it is wonderful to see Owen and Owens family trust wishes to help former employees.
Eileen O....... I worked there on a Satarday in 1975 Fantastic Suters loved the sweet wheel by the lift
Caroline C...... I worked there from 1980-1984...in Haberdashery and China and Glass
Delia C...... Worked there from 1976 through to 1988, did my retail distinction at Windsor college thanks to Suters, managed several departments under Owen Owen, met my husband there and my all time best friend Susan P....r. The training I had and experiences set me up for life. Enjoyed every minute working there and would turn the clock back if I could. Happy days and fond memories, remember the Lamson system?
Sheryl W... I worked in Owen Owen Slough for about 2 years 1984-86. I worked in China and glass menswear and toys. Remember a manager called Mrs jaggard, Mr goodchild, and remember a Christmas theme " the store that believes in Santa Claus"
Caroline C.... I have a badge that says that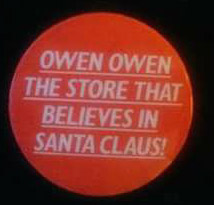 Gloria L...... I had been face timing my sister in Canada only the other day about the shops we used when we lived in Slough I said I loved Suters she couldn't remember it but she loved Owen & Owens which I can't remember.
Sylvia S.... I worked at Suters in Uxbridge as a Saturday girl and during school holidays in 1972/73, the Lamson system scared the living daylights out of me but I soon got used to it and I even learned to operate the lift .... it wasn't automatic, you had to manually stop it at the floor and then warn customers to mind the step up or down!
Rob P......... was the lamson system all those tubes that the money went through and your change and receipt came back?
Sylvia S.... Yes! whizzed all over the shop and up to the accounts department!
Steve B..... British Airways had a massive version of it in their cargo operation at LHR, where it sent the Air Waybills, etc., around the cargo facility in much larger tubes.
Rob P......... I was always mesmerised by that as a kid.I also remember the tannoy system where they would call someone's name (employee obviously) followed by a number,was that a phone extension? There was someone called Mr Robert and my mum told me that they were watching to make sure I was being good
Sylvia S.... Mr Robert and Mr Michael used to "walk the floor" just keeping an eye on everything, the Suters equivalent of Mr Peacock in Are You Being Served!
Rob P......... so when they called their name followed by a number,what was the number?
Lorraine W........ Over the tannoy we would call a name and extension number for them to call.
Sylvia S.... I think that was the department number? I remember working in Gloves & Handbags one Easter holiday and having to look continually busy ...... such a quiet department!!
Tracey ........ Handbags was Hever a quite department always things to do
Sylvia S.... Yes, tidy the gloves. And then tidy the gloves again. Oh, and again
Cherian....... i used to love this shop i was always in there on Saturday mornings
Dave ........ I did quite well there, starting in bedding and toys and then became asst manager on menswear,until we had a new manager on menswear who made it clear from day 1 that he didn't like me. In an effort to make me quit he had me moved to ladieswear but Mrs Jaggard encouraged me to stick it out and eventually I ended up back where I started before leaving to become a carpenter. Mostly a really good experience though.
Sharon .......... I worked in Owen Owen firstly on the ground floor then moved to the top floor as assistant floor manager to Irene Wallis, had a great time.
Caroline C.... Remember Irene Wallis..she was in beds at one point wasn't she?
Sharon .......... Well I never caught her sleeping on the job lol. Yes top floor, beds bedding ,carpets, bathroom lighting, curtains and toys. We had a lot up there.
Martin S..... Started as the lift boy part time then worked in goods in for a while, whilst at collage.
Tracey ........ I worked at Owen Owen under Mrs j started on ahead of hair menswear haberdashery fashion accessories then all other departments around store
Susan P...... This is a blast from the past Delia and I started at Suters on the same day back in 1976 names that come mind are- Mrs Drury -whaty Mr Cullen - Mrs jarrard happy days
Lisa P.......... I got my ears pierced in Owen Owen
Lorraine W........ I worked up in Owen Owen general office and switchboard early 80's. Great crowd and ended up house sharing with a few of them. Bonus of also meeting my hubby there.
Elizabeth C........ Personally don't like Debenhams
Anita ......... I modelled there cloths did a fashion show in Fulcrum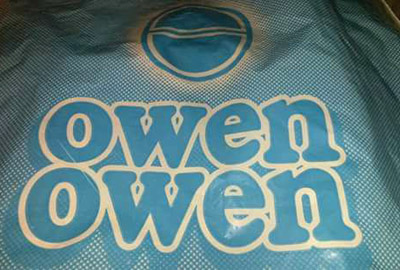 Gloria H....... Clearing the cupboard under the stairs today, & found a carrier bag with a receipt in it for Allders dated 31st. Dec.00 think it must have been Allders for a while before Debenhams. Am I right?
Tracey F..... Yes it was owen Owen then Allders

Philip Suter You would have been right. Looks likeit was Owen Owen till around 1996 then Alders, but not sure how long they owned it before it became Debenhams