Please note that if click on some of the images on this page they will enlarge
Feedback and Memories of Suters Ltd
If you have any memories of Suters in Slough, Uxbridge, Ruislip, Windsor, Asford (Middx) or of G W Suter Draper in Ledbury we would appreciate your stories. (Also when the business in Slough and Uxbridge became Owen Owen in 1978)
Did you work at Suters?
Did any of your family work there?
Did you to shop there?
We will not publish full names unless requested to do so, or unless on an open Facebook group or website.
____________________________________________________________________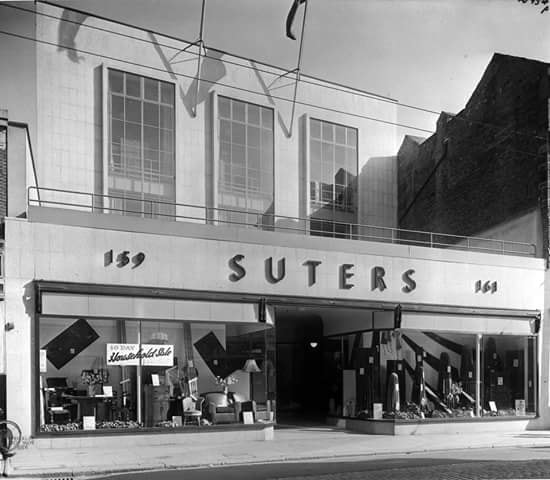 On the 21 June 2019 the above image was posted by Eddie Chenneour "CAN YOU REMEMBER OLD SHOPS AND PLACES IN UXBRIDGE public group"
Comments came in as follows:
Pat Webb Loved that store. My husband and I took our 2 kids there to see Father Christmas in 60s We all went on a sleigh ride to see him.
Diana Perry I worked there for a short while. Sandra Edwards Also F W Woolworths was next door
Sue King Fitch I worked there on every department in 1976
Marion Mayger loved watching the money shutes whizzin around as a kid
Debbie Cittern Ah, it was there they had the money chute system? I couldn't remember if it was Suters or Randalls! That was very fascinating to me as a child when shopping with my mum!
Marilyn Walsh-Connolly School uniform shopping loved the toy department my love of dolls houses stemmed from Suters
Shirley Holman I worked there 1962/4 on The switchboard and general office work the switchboard and general office work
Janet Covacic Loved suters, we used to go there on a sleigh ride to see father christmas - magical. Years later I bought a small black vase for 50p, cleaned it and found out it was silver. It was used on top of our wedding cake filled with flowers.
Jane Hastings Used to see Santa there as a kid with my Sister
Pamela Bickham Donley I loved Suters. That's where I always bought my tights. I was in there often seeing as we lived...
Mike Bunn I think I had my pic taken with Santa there when I was a kid, wish I still had the pictures
Ellen Kelly Loved that store also when Owen & Owen took it over bought a lot of household items there and beds We used to get our shoes there for school
Philip Stillman Our mum used to make curtains for Suters back in the 60s
Barbara Hewitt I worked on the habadashery dept
Janet Littlewood Barbara Hewitt, I had a Saturday job on the counter opposite selling ribbons, handkerchiefs, belts, fur collars etc. about 1963/64. My mum Peggy Moody also worked there.
Barbara Hewitt Janet Littlewood I was there 1955
Chris Lancaster GREAT SHOP .
Velma Poulton Me and my friend had Saturday jobs there my maiden name was walter
Lynne Douglas Richardson Loved the coffee shop in later years, also remember as a child visiting Father Christmas there, used to spend most Saturday afternoons in there with my mum.
Hazel Brown Loved his shop as a child I danced there they had a weird little competition it was in the paper. Thanks for this picture shoes Father Christmas and the magic tubes that used to send the money
Linda Mwale Had a Saturday job in Childrens Shoes.
Sue Langston-jones My first job working on the wool counter loved the money machine
Paul Berry My mother worked in Suters...must be 70+ years ago...i worked in the toy dept. As a Saturday job in the early Dawn Deans Remember it well, Shame it's not there now
Kevin Floyd Loved the old lift
Carolyn Brice Kevin Floyd sometimes they wouldn't let children in the lift, so would run up the stairs...ohhh to be able to do that all again now...happy days
Eileen Carr My goodness, a blast from the past! I worked there in my last term at school, taking letter in shorthand and typing them back. A big pile in four hours at one shilling an hour!
Carol Wotherspoon Who remembers having their feet X-rayed as a child as part of a shoe fitting?
Catherine Wilkinson yes loved this shop, days when shop owners had a say on who run the town, costomer got treated so well ,and you never trouble with what you bought, first class service, from a carpet, furniture to a cup of tea, those were good times.thank you staff for looking after us,
Shirley Holman yes there was one in a smaller shop Ruislip and for a while Windsor and Ashford. I think John sanders is still there
Philip Edwards NO. Suters became Owen Owen, which became JJB Sports, which became Sports Direect. Debenhams is in the Chimes/Intu
____________________________________________________________________
On the 26 April 2019 Debenhams announced that the company was closing 22 stores in 2020 including the former Suters of Slough premises in High Street Slough. Philip Suter posted a message on the SLOUGH 1970's Facebook page -"Debenhams to close 22 stores including Slough next year". There were lots of responses from The "Closed Group Facebook page".
S W I worked in that building when it was Owen Owen
P R I remember all 3 occupants: Suters, Owen Owen and Debenhams. Sad to see it close as there will be nowhere to shop!
C C I started at Owen Owen in 1980
S W / J S I worked up stairs on the top floor assistant floor manager alongside Irene Wallis
D A / S W I worked with Irene Wallis too . I worked for fogarty/ colorall concussions then worked for Owen Owen
G A Gosh another one gone. Famous faces shopped in there in all decades it was Suters
J S / S W late 80s early 90s I worked in haberdashery, fashion accessories, baby wear than ladies fashions
E B Only went in Suters.
W S - to Philip Suter Are you related to Suters the Department store that was? Hope you don't mind me asking? Went up and down those escalators a few hundred times for sure ? a long long time ago of course